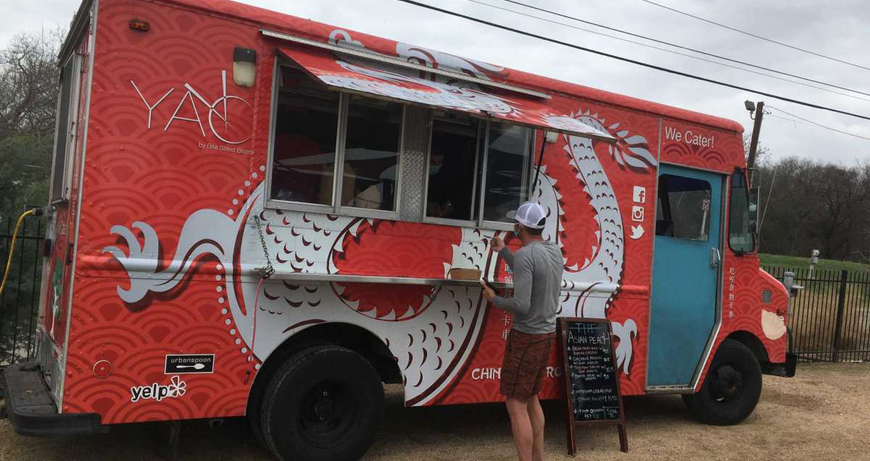 Oct 17, 2021
The Asian Peach
Every Friday my girlfriend and I sit down and look at what options we have for food trucks, we started doing this one night as a date night idea and it has taken us by storm. We decided to go out to StreetFare SA because we knew they had a wide variety of food trucks there. This way we can decide what we thought sounded good. Of course, we both decided on different food trucks, but as always my food was better.
I came across a food truck that was serving Asian fusion cuisine and it piqued my interest. Just standing by their truck and smelling their food intrigued me. I stood there and watched other people get their food to see if it looked just as good as it smelled, and boy did it! So I decided to take a gander at their menu, and I wasn't surprised when it all piqued my interest!
Our Choice: Beef & Broccoli with Udon Noodles
After looking over everything they were serving for the day I decided to go with the first option on the menu, Beef & Broccoli with Udon Noodles with a side of potstickers and egg rolls.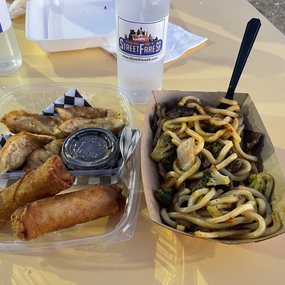 The Key Item: Potstickers
Out of what I ordered the potstickers are what completely blew our mind (even though my girlfriend got food from another truck I of course shared my food with her). They were fried and the dipping sauce they serve with it was delicious! We were able to get 5 potstickers for $4.50, and you can not beat that anywhere else! I would go back to them JUST for the potstickers!
Overall Rating: 5 out of 5
The Beef & Broccoli with Udon Noodles were on point, they even asked if I wanted it spicy, mild, or medium, and the medium was just enough heat for me! Let's not forget about the egg rolls, they were crispy on the outside and juicy on the inside. Overall this entire meal is just outstanding and it was hard to pick my favorite item but if I had to choose, the potstickers stole the top spot for me!
If you haven't tried them out already you seriously need to! Check out their Facebook page, while you're there like and follow them!
We go out to food trucks EVERY Friday, so if you're a food truck owner or if you know an amazing food truck we should try out next then shoot us a message either on our Facebook group or our contact page here on the website and we will try you/them out!